The Real Forest
The EcoStay Forestry Initiative is a collaborative project of forestry preservation, providing carbon sequestration, wildlife habitat, education and cultural heritage.
The project aims to protect existing native woodland forests for generations to come. Recognized as a leading solution in the fight against rising CO2 levels worldwide, forests trap carbon dioxide in their bark, wood and roots.
Current planting locations include Alberta and British Columbia, and we will soon begin planting in Maine, USA. For more information and third party verifications:
Maine, USA Reforestation (coming soon)
The heart of the initiative will feature a masterpiece Land Art parkland, constructed on the outskirts of the city of Calgary and orchestrated to visibly represent one of the major aboriginal symbols of the earth and regeneration; the turtle. The Land Art will be modelled after a commissioned illustration by Bill Helin, celebrated aboriginal artist, and will be visible from above by air traffic and eventually satellite imagery. Accessible for all to enjoy, the Land Art parkland will be complete with public access walking paths and educational signage about the project and its role in easing greenhouse gas emissions, biodiversity and the interaction of First Nations people with nature.
The Turtle has a great significance to numerous Aboriginal Coastal and land based Nations of our planet. Some recognize the seasons from the designs and sections on their shells. The shell also represents the strength of the people as tribes, and their long migration routes display their ability to survive and endure. Helin's interpretation is designed from a north coastal Tlingit/Tsimshian style of mythology, that is a round Mother Earth spirit and a small embryo shape, ovoid, that represents survival and respect of future generations. Within the shell are many Nations unified as one earthly tribe.
EcoStay's Forestry Preservation Initiative promises to unite millions of travelers from around the globe. Guest staying at participating hotels can be recognized personally as they join other in leaving a legacy of nature and beauty for generations to come. Plant your tree now!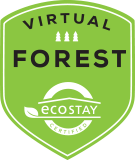 877-430-3007